Website to manage labor export for the company, support the company to operate effectively, control orders, control employees, search new orders quickly.
Procedure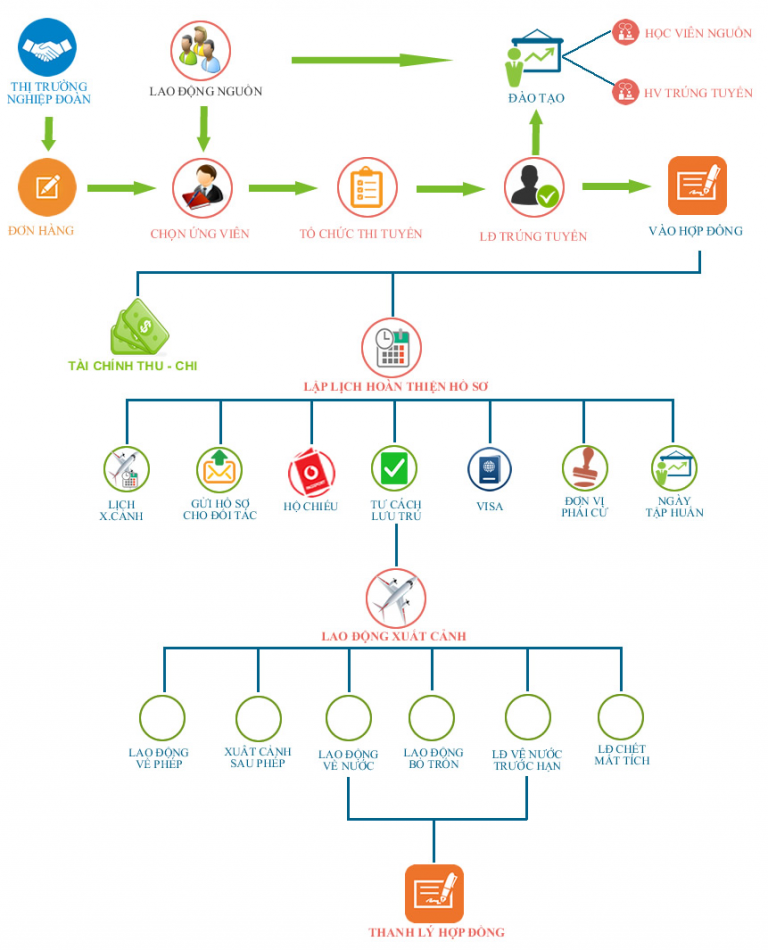 Employee management
Department

Information management, qualifications, degrees, salaries, sales staff

Login account to help employees track the work situation.

Managing working hours and hours of employees

Managing schedules for lecturers

Attendance staff everyday
Partner Management (source orders)
Partner company information

Manage orders of partners

Amount

Number of candidates
Candidate management
Labor sources by location (Hanoi, Thanh Hoa, Nghe An, …) by district of residence help manage the situation of regions to arrange sales staff.

Information, candidate profile

Manage status, consulting process for candidates

Current candidate status: exited, currently recruited, consulted, reserved … helps employees understand the current number of candidates and arrange candidates' support plans.

Provide account for candidates to help candidates track courses, contract application information, order information to help candidates look up the staff's working time
Contract management
Manage orders by candidates

Manage employee's profile status for this order.

Examination status of the candidate.

Order status.
Technology :
The software is made on website, data stored on the network so it can be accessed anytime, anywhere.

Data is backed up regularly to ensure when a problem occurs.

Nền tảng PHP & MySQL, framework Laravel.